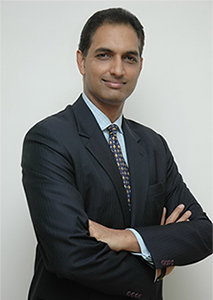 He also holds the position of Vice Chairman at GVK Power and Infrastructure Limited, Managing Director of Mumbai International Airport Pvt. Ltd., and GVK Biosciences Pvt. Ltd. and, also one of Director for Taj GVK Hotels.
Mr. G V Sanjay describes his passion for excellence as his core competency. Educated in the United States, he combines his professional expertise and knowledge with a global perspective and a practical approach to business. He holds a Bachelor's in industrial engineering from Purdue University and an MBA from University of Michigan, Ann Arbor.
Mr. G V Sanjay Reddy was recently elected as Chairman of CII, Southern Region for 2012-13. He actively participates and contributes to various programs of national interest through forums like Confederation of Indian Industry (CII), Young Presidents' Organization (YPO), Mindmine Summit and the prestigious Jagdish and Kamla Mittal Museum of Indian Art. He has also been declared as the "Emerging Business Leader of the Year" by AIMA Managing India Awards, in 2011.
Mr. G V Sanjay was among the 25 Indians chosen as Young Global Leaders 2007 by the World Economic Forum and was primarily selected for his professional accomplishments, commitment to society and potential to contribute to shaping a better future.