"Golden Hour Reach"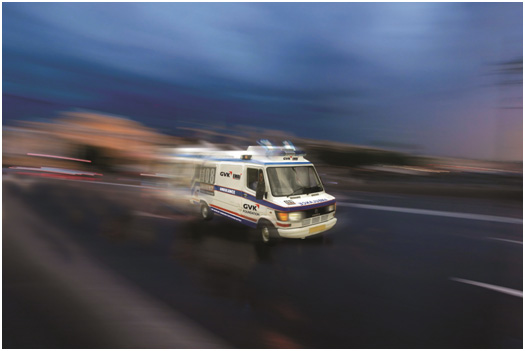 The backbone of the emergency services transportation is the ambulance which should be appropriately maintained and manned. A little over Fourteen years since inception, GVKEMRI has come a long way as the largest emergency service provider in INDIA with over 6500 fleet strength.
Transporting the patient from the site of an emergency to the nearest suitable hospital requires the operator to maintain the rolling stock free from break downs. The objectives of reliability, comfort, clean, hygiene, timely, and financially viable are to be met with utmost precision. The ambulances run by GVK EMRI are designed in house addressing the Indian needs and constructed to afford safety, comfort, and avoid the aggravation of the patient's injury or illness.
GVK EMRI has gained sufficient expertise in fleet management and sustained the position as largest single ambulance operator in the world with a cumulative fleet size of over 13,491 Vehicles deployed in 108 EMS Service, 102 JSSK Pick and Drop Back Services, Mobile Medical Units, 181 Women Rescue Vans, 1962 Mobile Veterinary Clinics, etc. The best maintenance practices adopted have given national recognition and applaud from the public. Apart from the acceptability, the Endeavour to reach the people in distress, providing pre-hospital care and admitting within the Golden Hour is well focused on a healthy transport system.