Launch of Suicide Prevention Helpline in Gujarat by Deputy Chief Minister Shri Nitin Patel
on 23 Sep, 2019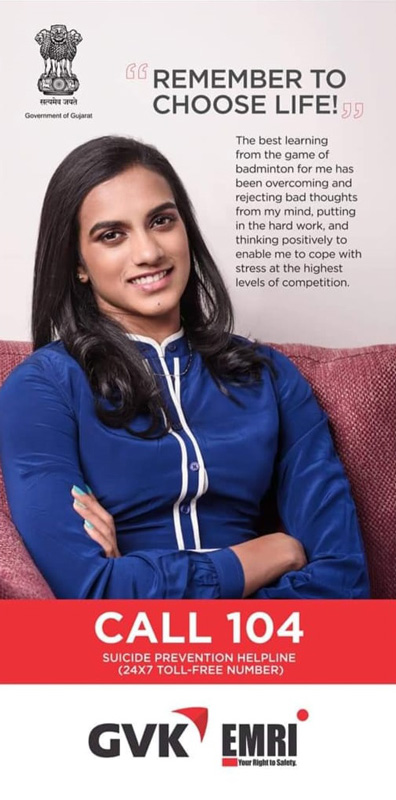 In this age of fierce competition, high stress levels and depression at failure is taking its toll with 1 suicide taking place every 40 seconds globally with India contributing 2.30 lakh person succumbing to it annually. Suicide has attained 2nd Rank in cause of death among 15-39 age group persons globally. In India, 1 student commits suicide every hour due to parental pressure. Behind every suicide, there are at least 20 attempts to commit suicide. Timely counselling received at the right time through trained psychologists can go a long way to prevent a person from his desperation to quit by ending his life through Suicide.
Gujarat became the first state in the country where GVK EMRI in partnership with Govt of Gujarat launched Suicide Prevention helpline that will offer 24-hour counseling facility as an extension of 104 Services in Gujarat by Deputy Chief Minister Shri Nitin Patel on 23 Sep, 2019.
While launching the suicide prevention helpline, Honorable Dy. CM of Gujarat Shri Nitin Patel said that due to lack of awareness and stigma attached with mental health issues, people do not come forward for treatment.
Features
24X7 Toll free no. to seek help when depressed
Anyone can access services
Counselling from expert counselors
Linkage to support group (Dial 100 or 181 WHL or NGO' Support groups) for reducing cause for depression
Linkage with Govt. Agencies for support to depressed
Introduces caller with alternative ways to reduce cause of depression
Focus on vulnerable groups: youth –students, housewives – and farmers
Provides govt. with inputs/insights into public grievances causing Depression for policy formulation towards a timely resolution
Benefits
Finds a viable solution to his troubles
Gets back self-confidence to face the issues rather than evade and end life
Confidentiality and devoid of stigma thorough Early first aid and expert counselling
Facilitates follow up care through Welfare Call & Follow Up calls at intervals towards restitution of normalcy
This initiative was taken up by GVK EMRI with concern and action plan shared by a young Student Miss Eshita Kalidindi. Miss Eshita is pursuing her 12 th Grade in Suchitra Academy and currently doing her internship at GVK EMRI. Miss Eshita roped in her close friend and Olympic Silver medalist Badminton player and India's youth Icon Miss PV Sindhu as GVK EMRI's brand ambassador for the Suicide Prevention Helpline launched in Gujarat.