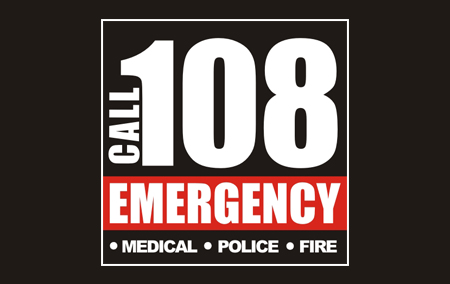 GVK Emergency Management and Research Institute (GVK EMRI), the major corporate social responsibility arm of GVK, was established in April 2005. It provides integrated Emergency Response services in Public Private Partnership, with a vision to support and build capabilities to promptly respond to millions of emergencies and save lives nationally and establish GVK EMRI as a premier Research and Training Institute.
The guiding operational principle of GVK EMRI's 108 / 112 service in Sense, Reach and Care.
Sense: Emergency victim/ attendant dial 108/102. Emergency Response Officer' Screen helps facilitate and scope emergency, assign strategically located ambulance (Ambulance/ Police/ Fire).
Reach: Ambulance(s) to reach the site/scene. .
Care: Emergency Medical Technician (EMT) to provide passionate pre-hospital care while transporting patient/ victim to the appropriate hospital for stabilization. Emergency Response Centre Physician (ERCP) advises patient care with the support of ERO, EMT to ensure optimal pre-hospital care.
In Partnership with 17 states (Andhra Pradesh, Telangana, Gujarat, Goa, Tamil Nadu, Karnataka, Assam, Meghalaya, Himachal Pradesh, Chhattisgarh, Uttar Pradesh, Rajasthan, Arunachal Pradesh, Kerala, Delhi & Union Territories (Daman & Diu, Dadra & Nagar Haveli) operates 7,608- 108 EMS Ambulances, with more than 51,000 on roll employees. GVK EMRI started operation in Sri Lanka under PPP mode on 28th July, 2016. The project is supported by GoI.
765 M population covered in 15 States and Union Territories (increasing reach of health care in rural, hilly & tribal areas).
Till date 7.14 crore beneficiaries have availed these services, 5.30 lakh deliveries were assisted and 33.27 lakh lives were saved since inception.