| | | | |
| --- | --- | --- | --- |
| STATE | Gujarat | EMT | Mehul Maheta |
| DISTRICT | Amreli | PILOT | Dipesh Deraiya |
| DATE | 28th July, 2012 | ERCP | Dr. Vishal Vikani |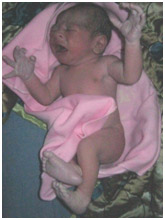 23 years old Kailashben Donga from Talali village was expecting her 2nd baby very soon. She had done everything right and as advised by the doctor. She had experienced a child birth before and was very sure that if she follows everything in the same manner as before, nothing could go wrong. In the evening hours on the 28th July 2012, Kailashben started feeling some pain. It could be anything but she did not want to take any chances and decided to go to the hospital. Soon the pain started to grow more severe along with
heavy bleeding. So, assuming it to be labor pain, her father-in-law decided to summon medical help and immediately dialed '108'.
'108' team from Kukavav; EMT Mehul Maheta and Pilot Dipesh Deraiya manning 108 ambulance were assigned the responsibility of supporting Kailashben. On the way, 108 team gathered some crucial information including the address and the obstetric details and also instructed the family members in order to make sure that her condition does not deteriorate till they could reach her.
As 108 reached at the given address, Mehul found Kailashben to be alert but agitated with excruciating pain. During interaction and physical examination of Kailashben, he found that it was a case of breech presentation indicating that the legs of the baby would be coming out before the head. It was going to be a complicated case, Mehul knew.
The 108 team shifted Kailashben into the 108 ambulance without losing any time and proceeded to the hospital. Kailashben was in severe pain, seeing which Mehul decided to seek advice from the Emergency Physician, Dr. Vishal Vikani who advised him to shift her to the nearest appropriate hospital as soon as possible, else it could lead to a very problematic delivery for both Kailashben and her unborn child.
On the way, Mehul found that the leg of the baby was already coming out which meant that the baby needed to be delivered as soon as possible or else Kailashben could lose the baby.
So, after parking the ambulance on the roadside safely, he put on his personal safety and hygiene equipments and started the delivery.
It was very complicated as Mehul had rightly assessed. The baby was in breech position and the delay was making it difficult for the baby to breath. Very skillfully, Mehul conducted the delivery but the complications grew more when the head of the baby got stuck inside the birth canal. It was a matter of a few minutes when Mehul decided on what to do. Making way for the baby to breathe with one hand and pulling it out with the other, he successfully saved the newborn.
Due to some distress in breathing, the newborn needed oxygen to be administered. But there was no danger to both the mother and the child. Kailashben was in tears seeing her baby boy and thanked Mehul for saving its life. It was a moment of extreme happiness in spite of the pain that she had to go through as her cherished baby was finally in her hands, safe and secured.