| | | | |
| --- | --- | --- | --- |
| STATE | Karnataka | EMT | Shekavva and Shiva Kumar |
| DISTRICT | Haveri | PILOT | Parsuramappa Pujar and Toufio Phatan |
| DATE | 14th Nov, 2013 | ERCP | |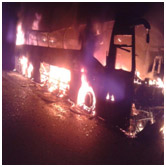 On the wee hours of 14th Nov, 2013, the GVK EMRI office in Karnataka received numerous calls from Haveri district, all saying that a Volvo bus had caught fire. Sensing the emergency impact to be high, an ambulance from the same district was assigned the case. EMT Shekavva and Pilot Parsuramappa Pujar reached the scene first and saw that the bus was already almost half in flames.
The passengers were all trapped inside. The team broke the front door of the bus and started pulling people out immediately. The team simultaneously called more 108 ambulances as the number of people to be rescued and saved was more.
With the efforts of the team, around 25 people had already been taken out from the bus when another 5 ambulances arrived to their help. They pulled everyone out safely from the bus and then started providing pre-hospital care to the passengers along with shifting them to the nearest appropriate hospital.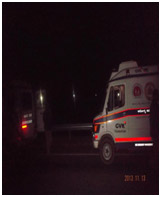 Two passengers were in shock due to which they were not able to speak at all. Shekavva gave them the necessary first aid and brought them to a much stable condition before shifting them to the hospital.
By then, a lot of crowd which had gathered found that the 108 ambulance services had done a great job. Everyone was full of praises and said that if this service was not available it would have lead to many casualties.
The 108 ambulances were the first to reach the spot before the police or the fire department could reach. It was a proud moment for GVK EMRI team because of which so many valuable lives were saved. The media too was full of praises and appreciated the work done by the team.