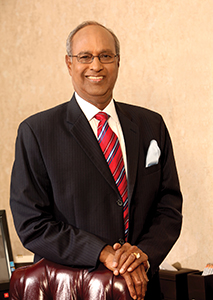 He is also the Founder and Chairman of GVK, a diversified business enterprise with interests in a wide range of businesses including power generation, airport operations and management, roads, urban infrastructure, bio-science, hospitality services and manufacturing sectors. In recent years, GVK has increasingly focused on the Infrastructure sector which has been identified as its core business area for future growth.
Dr. GVK Reddy has been recognized for his dynamism, outstanding brilliance and invaluable contribution to the field of entrepreneurship and social upliftment. He was conferred with one of the highest civilian honours of Padma Bhushan by the Government of India in 2011 and has been bestowed with the honorary title, "Doctor of Philosophy" by the renowned Jawaharlal Nehru Technological University, India.
Dr. GVK Reddy is recognized for his benevolent spirit evident from his commitment to the cause of the development of society. He has set up GVK Foundation which provides education and civic amenities like housing, drinking water and health care to underprivileged people. Dr. Reddy is associated with the Raja Bahadur Venkatarama Reddy Educational Society and Vivek Vardhini Education Society. He has also set up many schools to make quality education available to the less fortunate children of our society.