| | | | |
| --- | --- | --- | --- |
| STATE | Andhra Pradesh | EMT | M. Ravi Kumar |
| DISTRICT | Khammam | PILOT | G. Umashanker |
| DATE | 23rd Dec, 2012 | ERCP | |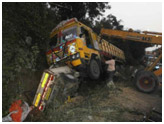 On 23rd December at 3.00 am in the morning EMT Ravikumar was dispatched to attend a road traffic accident case. It was a collision between a lorry and an auto trolley in which 17 passengers were proceeding for a function. The lorry collided with the auto trolley head on and dragged the auto with people inside for nearly 50 feet down into the road side bushes.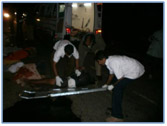 On reaching the scene EMT Ravi noticed that passengers were struck inside the auto. Pilot Umashanker notified the Emergency Response Center and Singareni colleries to send their advanced extrication teams who were well trained and had lot of experience in managing incidents like this. Ravi and Umashanker started extricating people using tools from extrication kit. They were able to extract 6 persons, while three were already dead.
Ravi shifted the 3 victims with grievous injuries into the ambulance and provided appropriate pre-hospital care.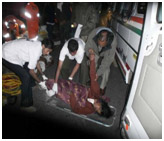 One of them had both lower limb crush injuries, the other had open shoulder Fracture and dislocation while the third one had blunt trauma to chest and abdomen. He was having breathing difficulty and he was immediately shifted to the nearest hospital.
In the mean time, the police and Singareni team had reached the scene and helped in the extrication of rest of the victims. Sequentially on priority basis all the victims were shifted to Area Hospital Kothagudem 8 Kms away, which was notified earlier about the incident and were prepared to receive the victims. In this tragedy 10 people lost their lives and six could be saved by the timely and appropriate efforts by the 108 team, the Police and Singareni team.