| | | | |
| --- | --- | --- | --- |
| STATE | Himachal Pradesh | EMT | Puran Chand |
| DISTRICT | Lahaul-Spiti | PILOT | Gopal Bodh |
| DATE | 24th Aug, 2012 | ERCP | Dr. Purohit |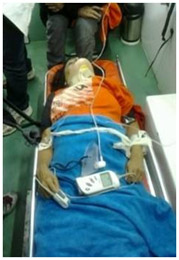 "Atithi Devo Bhava" meaning "Guest is God" is also the tag line of campaign in India to treat tourists as God and to develop a sense of responsibility towards our guests. The 108 team translated this into reality by demonstrating these values in discharge of their duties.
Shosh Mazil aged 35 years along with her friend Shilmit Spector aged 56 years from Israel had come to visit Himachal to see the beauty of Mother Nature. But fate had decided something else for them.
On 24th August 2012, when they were having a joy ride on the mountainous ranges of Spiti valley, unfortunately their car met with an accident and ran down deep into the valley. The moment 108 received a call informing about this incident, immediately a 108 ambulance team comprising of EMT Puran Chand & Pilot Gopal Bodh left for the incident site.
On reaching there, they witnessed two females who were badly injured in the accident. Shosh was suffering from grave head injury and blood vomiting. She was semiconscious and her vitals were unstable. And her 56 years old friend Shilmit was suffering from swelling on left hand and chest pain. She was also semiconscious. The respiration rate of Shosh was very low and her heart rate was dropping fast. Immediate pre-hospital care was the need of the hour.  Puran immediately applied cervical collar to Shosh and without wasting time contacted 108 Emergency Response Centre for On Line Medical Direction (OLMD) from Emergency Physician.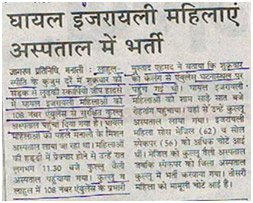 Puran followed the doctor's advice and provided oxygen and some injections as advised to Shosh and applied splint on Shilmit's arm. She was experiencing severe pain and difficulty in moving and breathing. After the required pre-hospital care had been given, both the victims were in a stable position and were safely admitted at the nearest hospital.
Shosh and Shilmit, being our guests, were even more precious for us. Managing with the tough terrains and difficult weather conditions was itself a big challenge but the valiant efforts of our team saved these two precious lives and again created an example in front of the whole country.