| | | | |
| --- | --- | --- | --- |
| STATE | Chhattisgarh | EMT | Tikeshwar Shrivas |
| DISTRICT | Surajpur | PILOT | Chandan Mishra |
| DATE | 26th Nov, 2013 | ERCP | Dr. Aasiya |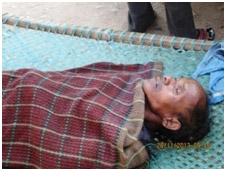 If anybody becomes addicted to alcohol in any stage of his or her life, then one can easily predict where his life will end.  After all we are living in a culture where our family, society and country are interlinked with each other. Every good and bad thing which we do will automatically affects our family, society and the country as well. The person who consumes alcohol is not only wasting money but he or she will also lose his health. Moreover he/she will lose the ability to think and respond.
This case is about Mr. Ramdhin, aged 50 years who was a chronic drinker.  He was least bothered about his family and never did he care whether his family had anything to eat or not but he needed alcohol every day to enjoy.  On 26th Nov' 2013 morning at 8 AM, when his family members tried to wake Ramdhin they found that there is no response from him and secretions were coming out from his mouth. Seeing this all family members became panicky and immediately called 108 for help. As soon as the 108 call center received the call, they immediately assigned the case to nearest Odgi location ambulance. Wasting no time EMT Mr. Tikeshwar and Pilot Mr. Chandan Mishra left to the scene.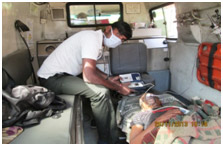 After reaching the scene, they found that the place was too narrow and it was impossible for an ambulance to pass through that road.  In that situation, both Tikeshwar and Chandan came out from the ambulance; they took all the required equipment from the ambulance and left for the scene on foot.  After reaching the scene, Tikeshwar immediately examined the Ramdhin and found that he was unconscious and secretions were coming out from his mouth. He checked his pulse and then did a suction to make the airway clear for him to breathe.
Afterwards the team carried Ramdhin on a cot and took him inside the ambulance. Tikeshwar again checked the vitals of Ramdhin and found that his blood pressure was way low than the normal and he was breathing very fast. He then gave him oxygen through face mask and contacted ERCP Dr. Aasiya for further treatment. Following the advice of the doctor, Tikeshwar gave the required treatment and kept observing the vitals continuously till he was admitted to the nearest hospital which was 12 kms. from the scene.
Another team from 108 had proved that saving lives during emergencies is what we excel at and are continuously dedicated to help more and more unfortunate victims.