| | | | |
| --- | --- | --- | --- |
| STATE | Tamil Nadu | EMT | U. Herambanathan |
| DISTRICT | Thiruvallur | PILOT | Leelaraman |
| DATE | 15th Nov, 2013 | ERCP | Dr. Lavanya |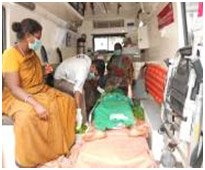 Sleeping soundly in her dreams, Sugumari, 32 years, was unaware of the upcoming danger that had the capacity to take her life. The whole family was sitting in the outside room while she was alone in her bedroom. Everyone was busy doing the daily courses when a small spark from the family fireplace ignited a disastrous fire threatening the whole family's life. Everyone had come out but forgot Sugumari behind.
Sensing the fumes of the fire that had broke into the bedroom, Sugumari woke up and found herself amidst ferocious flames which tended to come closer and trap her. She cried for help but all her family was out and the fire won't let anyone enter again.
Sugumari was finding it difficult to breathe and flames were coming closer and closer. In a moment, she fell down, unconscious, leaving her life on fate. Meanwhile, the family members had called 108 and some of them had gathered some strength to enter the house to rescue Sugumari. They found her on the floor and ran to save her but by that time, the fire had caught her.
Taking her out was a big danger but the family managed to save her from the fire. But her condition was very critical as she had suffered second degree burns on her front body and right elbow. Just then, 108 team with EMT Herambanathan and Pilot Leelaraman, arrived and found that Sugumari was only responsive to verbal commands. She had second-degree burns over 90% of her body and her vital signs were telling them that she was quickly deteriorating.
The team quickly placed Sugumari on high flow oxygen and began dressing the wounds by applying dry sterile dressing to the burn area. Herambanathan identified that Sugumari was slipping into an unstable state due to her blood circulation being too slow and called Emergency physician Dr. Lavanya. With the doctor's assistance, Sugumari was recovered to a much stable state than before and was shifted to Kilpauk Medical College and hospital's burns unit.
Sugumari's family had lost hopes when they had brought her out from the burning house but they found God's helpers sent to them in form of 108 team who not only managed to save her life but also put her into a state from where she recovered more quickly than anticipated.