| | | | |
| --- | --- | --- | --- |
| STATE | Madhya Pradesh | EMT | Dharmedra Singh |
| DISTRICT | Sehore | PILOT | Deepak Shrivastava |
| DATE | 24th Dec, 2013 | ERCP | Dr. Amit Malviya |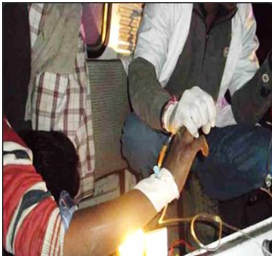 Jeevan, a 28 yr old man, was a driver of a dumper. He worked hard for his living and was content with he got. Life was running fine until one night, when he received a call from the owner of the dumper that he along with his dumper was required at Sehore immediately for some urgent task. Jeevan had no choice but to get ready to drive the dumper from Ichawar to Sehore.
He started his journey around 11:30 pm. Everything was going on smoothly, until a truck came in front of him and with great speed hit the dumper. The truck fled away leaving an out of shape, crushed dumper behind.
Jeevan felt himself to be half inside the dumper and half out. Inspite of great pain, he tried to pull his lower half out of the dumper but he could not. Jeevan realized that he had got entangled inside and couldn't do anything on his own. He needed help.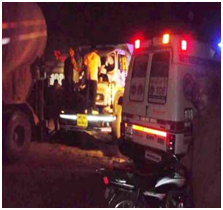 This was the time when some passerby saw the dumper and seeing Jeevan in such a condition he immediately informed 108. An ambulance vehicle with Dharmendra Singh as EMT and Deepak Shrivastava as Pilot rushed to the location from Sehore. On arrival, Dharmendra found Jeevan entrapped inside the cabin. He tried to pull him out but could not. Both Dharmendra and Deepak decided to break open the windshield of the cabin but even after doing that, they were not able to extricate Jeevan from the mangled metallic trap. With limited resources available further efforts seemed to be useless. Dharmendra then focused his attention on the Jeevan. He was in severe pain with both lower limbs being hurt grievously. Dharmendra decided to start the prehospital care in situ. He took advice from the Emergency Response Care Physician(ERCP) Dr. Amit Malviya. As per the doctor's advice, Dharmendra started the pre-hospital care. He also assured Jeevan that he would not let anything happen to him and that he will be safe now.
Meanwhile, help from the police had also arrived and Jeevan was taken out safely from the cabin. Jeevan had got multiple fractures in both his legs due to which he needed to be immobilized. After giving the required care, Dharmendra and Deepak quickly shifted Jeevan to the District hospital. Jeevan was now feeling safe due to the dedicated efforts of the 108 team. He was thankful to both Dharmesh and Deepak for saving his life while he was still inside the cabin, trapped and helpless.